PRACTICE
The neurosurgical practice at the OstseeKlinik was opened in August 2002 and our operating theatres were ready in spring 2003. Exactly one year later, our computer tomography unit was started up. Since then we can look back over a large number of successful examinations and operations:
over

10

,000 neurosurgical operations
over

2

0,000 diagnostic computer tomographic examinations of the head and spinal column
over

20

,000 CT-guided interventions.
Our goal is to become the number 1 choice for all patients with degenerative illnesses of the spinal column that need an operation or interventional treatment.
In recent years, more than 90% of our patients were already coming to us on the basis of recommendation.
OstseeKlinik Neurosurgery
The best treatment for your back.
Certificates:
We are certified by DC Deutsche Cert GmgH & Co KG and Swiss TS and we have a quality seal from SQS1:


Quality assurance with SQS may be viewed independently by the patients themselves on the Patientenallee website.
DIN EN ISO 9001:2015 certificate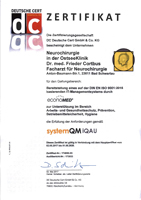 Download as PDF
Memberships:
We are members of the following specialist associations:
Lübecker Ärztenetz e.V.
Meesenring 1
23566 Lübeck
Telephone: +49 (0)451 - 66 555
Fax: +49 (0)451- 4 86 98 70
Email: info@luebecker-aerztenetz.de
Internet: www.luebecker-aerztenetz.de

WOHLnet GmbH
Wakenitzstraße 1
23564 Lübeck
Telephone: 0451 88 98 87 14
Fax: 0451 49 89 98 19
Email: info@wohlnet.com
Internet: www.wohlnet.com

Deutsche Wirbelsäulengesellschaft e.V.
Richthofenstraße 53a
24159 Kiel
Telephone: +49 (0)176 60 94 14 56
Fax: +49 (0)431 26 05 990
E-Mail: b.scheler(at)dwg.org


Internet:

www.dwg.org

North American Spine Society, NASS
WASHINGTON, DC
300 New Jersey Ave. NW Washington, DC 20001
Internet: www.spine.org

Deutsche Gesellschaft für Neurochirurgie e.V.
Alte Jakobstr. 77
10179 Berlin
Telephone: +49 (0)30 28 44 99 23
Fax: +49 (0)30 28 44 99 11
Email: gs@dgnc.de
Internet: www.dgnc.de

Berufsverband Deutscher Neurochirurgen e.V.
Alte Jakobstr. 77
10179 Berlin
Telephone: +49 (0)30 28 44 99 33
Fax: +49 (0)30 28 44 99 34
Email: gs@bdnc.de


Internet:

www.bdnc.de


Deutsche Gesellschaft für Schmerztherapie e.V.
Adenauerallee 18
61440 Oberursel
Telephone: +49 (0)6171 28 60 0
Fax: +49 (0)6171 28 60 69
Email: info@dgschmerztherapie.de


Internet:

www.dgschmerztherapie.de

Deutsche Gesellschaft zum Studium des Schmerzes e.V. (DGSS)
DGSS Offices
Obere Rheingasse 3
56154 Boppard
Telephone: +49 (0)6742 80 01 21
Fax: +49 (0)6742 80 01 22
Email: info@dgss.org
Internet: www.dgss.org