QUALITY MANAGEMENT AND PATIENT SAFETY
One of the central and most important concerns of neurosurgery at OstseeKlinik is the good quality of the neurosurgical care.
But how does one achieve such good quality and how can one maintain and record it?
To achieve this, we decided upon certification to the DIN ISO system. Here, all work processes are specified in writing and then for all processes in the practice we formulate a standardised concept set down in writing which is then precisely observed by all employees. All these work instructions and procedural instructions are then collected into one big manual.
Once this very comprehensive task is completed, an auditor from the certification body (in our case TÜV Süd) can come to the practice and perform the first certification. Here there is a detailed process check on whether the written documentation is known to and observed by all employees. In addition there is a thorough and very precise check on whether the legal, employment law, hygiene and health and safety provisions and laws are being precisely observed. There is also a check on whether the premises meet legal regulations and specifications.
In 2005 a quality management system was introduced to the Neurosurgery department in the OstseeKlinik. The Quality Management Officer is Sister Annemarie, who set up quality management mostly by herself and continues to look after all aspects of it.
In 2008 we achieved certification to DIN ISO 9001:2000 by TÜV Süd and Swiss TS. Since then the tools of the quality management system have continued to be applied consistently.
Ongoing quality is checked thanks to annual repeat audits. Here the auditor checks very closely whether all the regulations continue to be met and whether any further improvements have been made. Thanks to these very consistent repeat audits, a continuous improvement process has been initiated.
Every 3 years a new full certification has to be conducted. In June 2011 we achieved recertification to DIN ISO 9001:2008.
The current certification document is of course displayed in the practice and may also be inspected in an enlarged version by clicking on the adjacent image.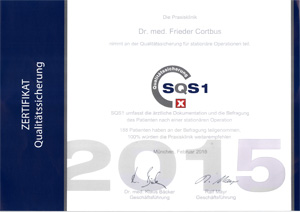 Once we had achieved the first major goal of certification, we considered how we could check and evidence the quality of inpatient care of our patients operated on and patient satisfaction. After examining and considering numerous different options, in the end we chose the SQS system.
The SQS system is an instrument recognised by many health schemes for checking quality of care and patient satisfaction. The advantage of this system lies in the fact that patients are given a comprehensive questionnaire that they can then fill in undisturbed at home and then send to an independent assessment institution (in our case in Munich). Since this system is also used by numerous other practices and clinics, it is then possible to make a comparison (benchmarking) between the participating institutions.
Since October 2009, the quality of inpatient care of our patients operated on is therefore consistently checked and evidenced by patient questionnaires according to the SQS system. The questionnaires sent in are evaluated once a quarter and then also summarised in an annual evaluation. You can inspect the evaluations for the years 2010 and 2011 in full on this website by clicking on them.
So not only do you have access to individual patients' opinions but you can also rely on the experience of several hundred patients operated on in our clinic who have evaluated in detail numerous aspects of inpatient and surgical treatment in our establishment. In addition, numerous further details of pre-operative, inpatient and post-operative outpatient treatment are recorded.
The basic idea behind our efforts is to ensure the highest-quality comprehensive care of spinal column patients to Association of SHI Physicians standards. To this end, the instruments described are used. The neurosurgical team at the OstseeKlinik constantly works towards developing their knowledge and quality through participation in internal and external training courses and national and international congresses.